Wedding photography FAQs
Date posted: 27 February 2014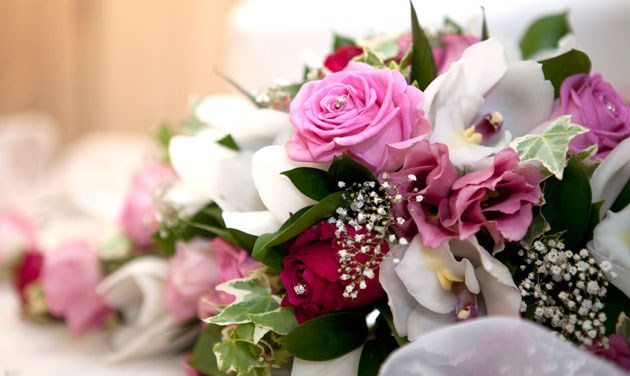 If you are thinking of choosing us as your wedding photographers, or if you have already booked us for your wedding day, we hope that you'll find the answers to these frequently asked questions helpful.
Questions for before the wedding


Will you both be taking photographs?
All our wedding packages are priced for one photographer, but you have the option to add a second photographer at an additional cost. Having two photographers not only means that we'll be able to shoot from two different angles (particularly beneficial during the ceremony) but also you'll get your day photographed from a male and female perspective.
What equipment do you use?
We use professional Canon equipment for their reliability and superb image quality. We use three full-frame Canon 5D digital cameras combined with a selection of professional EF 'L' series lenses, plus a pair Speedlite 580EXII flashguns.
Have you photographed at our venue before?
If it's a licensed wedding venue in Essex then the answer is probably 'yes'. But if it's a new venue for us we will always visit the location before your wedding to familiarise ourselves with the layout, to check out where the light and shade will be, to plan the formal and composed shots, and of course test our route to the venue.
What if you are ill on our wedding day?
Another benefit of having two photographers is that if one of us is ill then the other can cover. As you would expect, in case of illness (or accident or mishap) we hold full public liability insurance and professional indemnity insurance. We're pleased to say that we have never had to make a claim.
I can't find a wedding photography package to fit around our plans. What can you do?
If you can't find the wedding package to fit around your plans please speak to us and we'll try to accommodate your wishes. We have produced bespoke packages for very small, mid-week weddings and also for weddings over two days.
I am unsure as to which package to choose. When do I have to decide?
You can still make your booking with us and choose your photography package later, but we will need to know what you decide when you make your balance payment.
How do I make a booking?
If we are available on your wedding day, you'll need to complete a booking form and return it to us with a £50 non-refundable deposit, either in the form of a cheque, cash or bank transfer. This will secure the date for you and we will attend no other functions on that day. The wedding booking form can be downloaded from our contact page, or we can send you one by email or post.
When do I pay the balance?
The balance payment will be due 28 days before the wedding
Is the consultation meeting before the wedding really necessary?
This is highly recommended as it's an opportunity to confirm all the times and arrangements with you and to let us know of any specific picture requests that you have. We can go through your formal picture list and get to know the names of the key guests. It's a chance to get to know you better, to hear more about your wedding plans, and for us to start putting you at ease about having your photo taken. The meeting is also for us to remind you of how we like to work and what you can expect from us on the day.
Questions for the wedding day


What time will you arrive to shoot the bridal preparations?
This will depend on how much of preparations you wish us to cover. For some brides, the morning preparations are an important part of the day and they want it to be included in their photographs. Other brides prefer us to arrive only once they are ready. You can find out more about bridal preparations here.
How many photographs will you take?
This depends on the extent of your coverage and the size of your wedding. Typically you can expect around 600 photos. For a very small wedding with around 3 hours coverage there would be around 400, but for a large wedding with all-day coverage it could be as many as 1,000.
How many formal group photographs will you take?
We would recommend around eight to twelve formal group photographs, and this would take around 20 minutes for us to do. If there are any more, it can get quite boring for those guests who aren't being photographed – and also it means that time spent on formal photos means less time spent on shooting something else. Throughout the day, we will be taking many more semi-formal photographs – such as the bride with her father, the bride with her bridesmaids, the groom and best man, and so on – so there's no need to include those types of shots in your list.
Will you photograph everyone?
We will endeavour to photograph everyone but we can't guarantee it. Needless to say we will, of course, capture all the bridal party and the immediate family, along with as many guests as we can. Most people would be included in at least one formal group photograph anyway, but if there are any guests that you'd specifically like us to photograph, please let us know.
Will you shoot in both black & white and colour?
We always shoot in colour but we will convert some of these to black and white later. There are two reasons for this. Firstly, having a mix of both colour and black and white does add variety to your image collection, and also, some image just work better as black and white.
Will you need feeding?
If our coverage ends when you sit down for meal, then the answer is 'no'. If we are there until after the meal then the offer of food is always gratefully accepted but not expected. Weddings are expensive enough without the added cost of paying to feed your photographers!
Can our guests take photos?
Yes of course. We have no issue with your guests taking photographs. The only time when we prefer they don't is when we are taking the formal photographs. We need all the subjects to be looking at our camera and not looking somewhere else. After all, you are paying us to take these photos for you.
Questions for after the wedding day


When do I see the photos?
Your photos will be ready in two to three weeks, but possibly sooner. The reason that it takes this time is that we have to edit and process your images – and we take as much care over this as we do taking the photos at your wedding. You will be able to view your images in a password protected online gallery. Here you can select your favourite photos, link your gallery to social media sites, as well as purchase prints, frames and other presentation products. You can view a demonstration of a sample gallery here.
Can our guests buy prints from you?
Yes, they can. You'll need to give them a link to your gallery and your password.
Will you retouch any of the photographs?
All your wedding photographs will be carefully edited. We'll individually adjust the colour balance and the exposures, as well as convert some to black and white, so that you have a stunning and varied set of images. For some images there may be an element of retouching – for example, we have removed spots on foreheads and even taken out a split drink stain on a bridesmaid's dress – but we can't give you a nose job or make you a dress size smaller! Unlike some other wedding photographers, we won't drop in artificial skies at the editing stage as we feel that this isn't properly recording your wedding day.
Will the photos on the USB be high-resolution?
Your images on the USB will be saved in two formats. One set will be large, high-resolution files suitable for you to send for printing, and another set will be much smaller, lower resolution files suitable for social media and for email. All images will be unwatermarked.
How big will my storybook wedding album be?
The size of the album is not determined by which package you choose. The album can be as big as you wish, and hold as many pages as you wish. The smallest size album we do is an 8x8 inch square album, and the largest is an A3 size album. The more pages you add, the more photos you'll have in your album.
How do I order parent albums?
If you've chosen to have a storybook wedding album you can have mini replica albums made. Prices start at £125 each or two for £195, irrespective of how many photos and pages are in your main wedding album. You would need to place your order the same time as when you order your main wedding album.
How long will the album take?
Once you've made your selection, we'll need around 10 working days to provide you with a draft of the page layouts. Once you've approved the draft, your album will take up to 15 working days. The reason that it takes this time is that the page layouts are carefully designed for each client and not from automatic, pre-set templates. As the albums are handmade to order, this also impacts on the time.
Any further questions
We hope we've been able to answer any of your questions but if you need any further information please feel free to contact us.
---